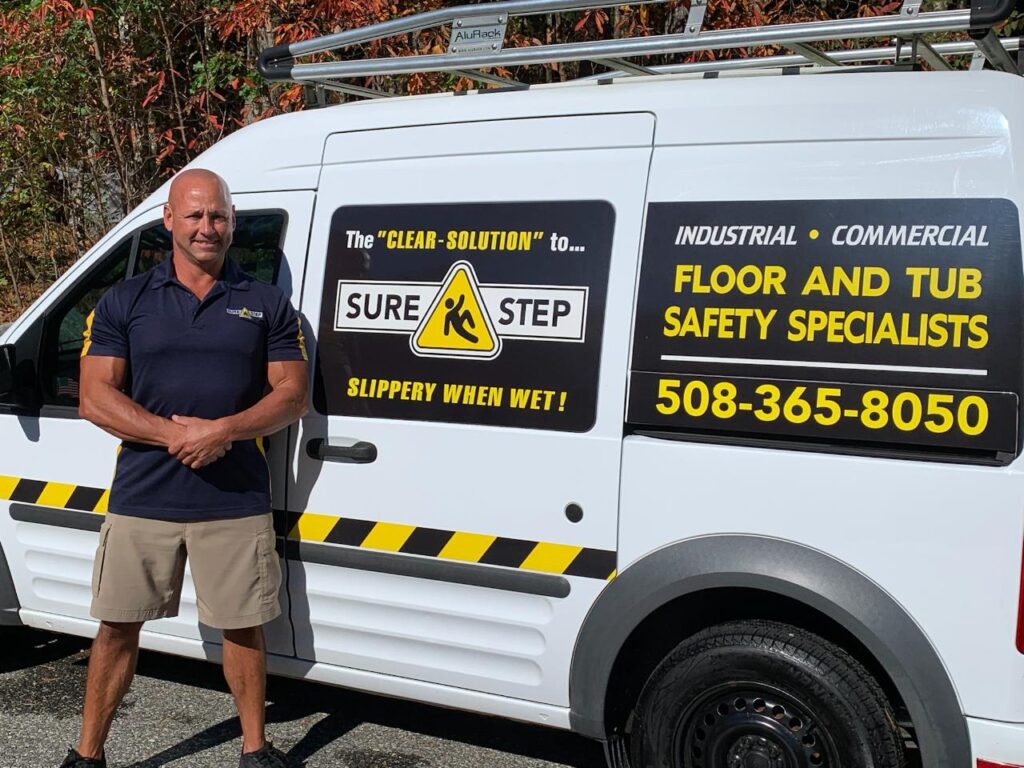 My name is Scott Blair, Owner/Operator of Sure Step New England. I was born and raised in Massachusetts and in 2021, retired as a CT State Trooper.
Post retirement, my goal is to help businesses from
"avoidable" slip and fall accidents. Every business at some point, will or have been, the subject of a slip and fall. Let me help you avoid the next one.
Research has shown that slip and falls are the second most common hospital visit to vehicle accidents. Imagine, if there was a scientifically proven way to mitigate such risk and liability.
Imagine if this could be accomplished with an immediate solution to long term savings with NO down time or business interruption. Let our 100% soluble, EPA regulated and USDA food friendly non- slip solution, be your affordable asset protection.
We are further proud, to advertise that we are Internationally known in 100 countries and recognized as the Preferred Non-Slip Vendor for Dal-Tile.
*Also as a Nationally Certified Walkway Safety Auditor, I have provided Expert Witness Services for both prosecution and defense. Our slip resistance testing can be performed as an individual safety audit, post non-slip treatment or as expert witness services. Our state of the art testing process is performed utilizing ANSI standard slip resistance testing equipment. (ANSI 326.3-21)
Contact me to view my CV and retention agreement.
My service has qualified businesses to receive a lower rating on their general liability insurance, therefore, resulting in further cost savings as part of their due diligence to mitigate risk and liability. Let our ADA compliant and OSHA recommended services be the bona-fide proof of a safety addition you need, for all your floor compliance needs and annual ADA tax credit.
*Our certified staff also offers premiere sports deck resurfacing using only premium USA made SportMaster Surfacing Products and RiteWay, Tru-Bounce Crack Repair and guarantee NO Bubbles, NO Dead Spots and NO Hollow Sounding Areas for long-term value and satisfaction.
Contact us Today for your FREE Demonstration of our Surface Penetrating Non-Slip Solution!
The Immediate Solution to Long Term Savings
Lower your Business General Liability Rating and Mitigate Risk Liability
Frequently Asked Questions
What is Sure Step?

SureStep is a clear invisible surface penetrating non-slip solution created by our Master Chemist in 1991, backed by science to raise wet surface friction by 200%-400%
Does Sure Step Change the look of my floor?
Does Sure Step change the feel of the surface?
What surfaces does Sure Step work on?

Sure Step works on all hard mineral surfaces such as concrete, granite, marble, tilt, travertine, brick etc., as well as porcelain and enamel tub.
Where can Sure Step be used?

Sure Step can be used on interior or exterior surfaces.